http://sora.ishikami.jp/image_dir/index.php?id=20030429233802
April 29, 2003
Arches National Park of Utah

http://slicer93.mbsrv.net/20030429233802.JPG
The rock of leg shape
Unfortunately, the image of this rock shows the back side.
We can see the shoe and 2-3 toes in the front side of it.
As it is located far away, I could not go there to see it.

Stone gods also prepared the stone chair beside it so that people can sit down to see it.
http://www.youtube.com/watch?v=3ErQBm0KXoQ&search=national%20park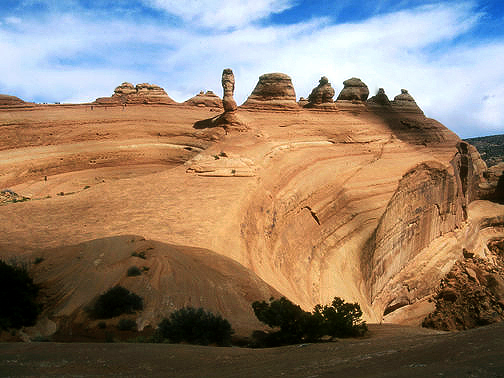 http://www.lightrainproductions.com/images/GalleryOne/DelicateArch2.jpg
The rock is put in the place where people can't draw near.

http://www.philarmitage.net/arches/arches4.html
Stone gods saw the future of humans who wear sandals and they made shoe and toes.