By Takashi(Sennari)
This info is from Let's solve the enigma of the earth
yThe images of THE UNIVERSE(THE SKY)=SORAzof 2003
http://sora.ishikami.jp/image_dir/list.php?year=2003
yThe images of THE UNIVERSE(THE SKY)=SORAzof 2004
http://sora.ishikami.jp/image_dir/list.php?year=2004

http://sora.ishikami.jp/image_dir/index.php?id=20031113122401
November 13, 2003
The cord that bound the strut?

http://slicer93.mbsrv.net/20031113122401.JPG
Since we usually strap the support with the cord when we make the support, I can't help imagining that the rock is strapped by the cord when I see the above photo .
http://slicer93.mbsrv.net/5-45.html

http://sora.ishikami.jp/image_dir/index.php?id=20040214155802
Feb. 14, 2004
Colossi of Memnon in Egypt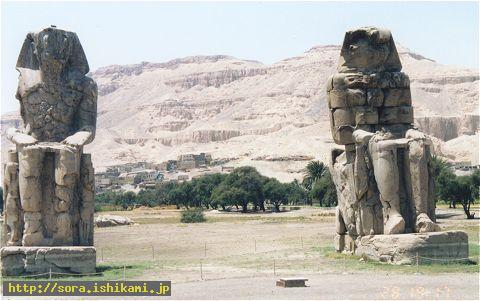 http://slicer93.mbsrv.net/20040214155802.jpg
The giant of Stone god
It is said they made sounds like creaking as if they were crying around the time in the morning sun rose.
I was told the wings around the head were made so that human voice could be heard well.
I thought before March 31, 2006 they were made by Stone gods but I was told they were Stone men, too.
There seemed to be small child angels and big Stone men like these.
The statues are very big when we approach them compared with the rope of about 1m height near the person who took the picture.
They seemed to be found in the pond in around 1800.
http://smilingcloud.web.fc2.com/gallery.html
http://smilingcloud.web.fc2.com/g-egp23.html

http://sora.ishikami.jp/image_dir/index.php?id=20040725235608
July 25, 2004
Arches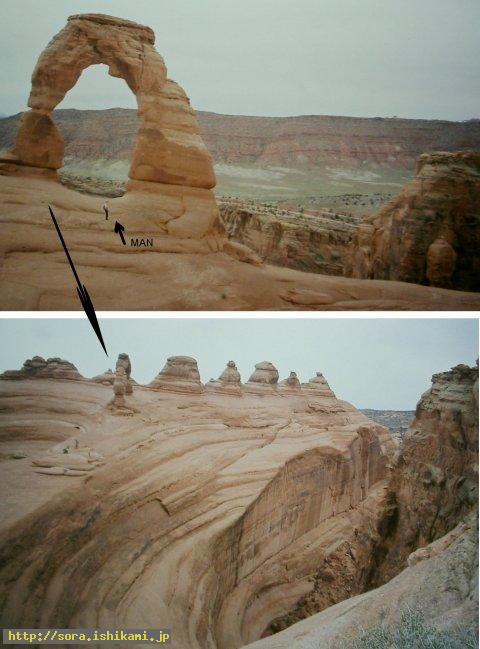 http://slicer93.mbsrv.net/20040725235608.jpg
This is the photo of Arches which was sent from a reader.
We can know well the shape of the legs and the position where the legs were made.
Shoe and toes are made for the left foot.
Why were shoe and toes made?
Stone men seemed to have the future image of the sandals from which toes are seen.
The knee joint of the right leg is now rickety.
They say it would become the sign of the end of the earth, if it got broken by any chance.
The photo below of the above two ones shows there is a large face at the back of the legs.
The face of Stone god's with the snub nose is looking at the work of Stone god.
In addition, next to the foot of the rock, giants, the alter ego of Stone gods are in a row.
According to the channeling info, they were made by several giants.
Alter egos of Stone gods are lined in a row in front of the leg and they are looking at the work.
It is said the cliff surrounds the bowl-shaped place where the arch exist was made so that humans couldn't approach and break the arch .


June 19, 2004
The footprint No2

http://slicer93.mbsrv.net/20040619212708.jpg

I didn't measure the size of the footprint.
Therefore I'm sorry I don't know the size of it.


http://sora.ishikami.jp/image_dir/index.php?id=20040523214100

May 23, 2004

The rock art of Fugoppe cave

Postscript on May 23, 2005

http://slicer93.mbsrv.net/20040523214100.jpg
This rock art exists in the cave of Sirippamisaki in Kusiro, Hokkaido,Japan.
The capea promontorya headlanda point of Sirippamisaki is a part of Stone god.
I was told it was cut off the body of Stone god and was carried to the inland through channeling.
A part of it is the sand.
It is the total darkness inside the cave.
Carving lines are drawn just above the ground, too.
How was this cave made?
At first a part of a capea promontorya headlanda point which protruded into the sea was cut off was carried by a giant and was made the flat depression, where he showed the vision to humans and made them draw the carving lines.
After humans finished drawing them, Stone god covered the carving lines with the part of Stone god to protect them.
However a part of the soil spilled into the ground and the height of it got higher.
Therefore carving lines are now seen just above the ground though they were drawn standing by the humans.
As I found the carving lines are drawn just above the ground, I thought they had been drawn by the human on his belly.
However the mystery was solved because I heard the explanation through the channeling.
I was wondering why there exist a part of sand and rock around Fugoppe cave, though it is located in the inland.
The cape of Sirippamisaki has the shape as if it were cut off sharply and big stones(sand rocks) are lined around there in front of the cave.
Those stones seems to be the parts of the body of the Stone gods which were grabbed off to make the dent.
I was told through channeling that the things which look like the wings are the antennas.
I was also told humans had been taught to preserve the fish and animals in the form of stockfish and drymeat.
http://slicer93.mbsrv.net/5-45.html